Evi Kokalari -Angelakis Quoted on Global Mansion: Luxury Home Market in Tel Aviv Fueled by Tech Boom, Mass Migration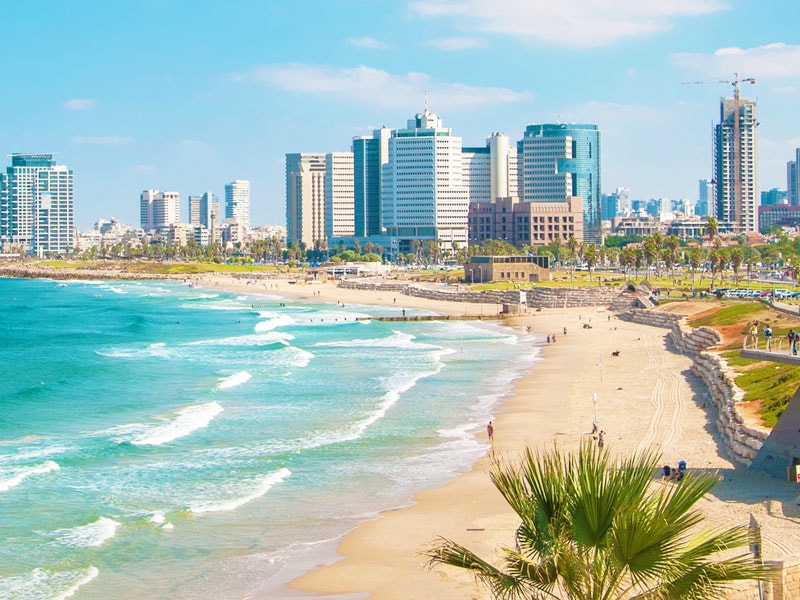 Mansion Global
Luxury Home Market in Tel Aviv Fueled by Tech Boom, Mass Migration
The city has become the capital of Israel's digital industry, and its workers are paying top dollar for high-end homes
Tel Aviv, Israel Photo: Ilan Shacham / Getty Images
For a country whose population is about the size of New York City's—just under 9 million—Israel boasts 6,600 active tech firms, or roughly one company per 1,300 people. That's a global per capita record, according to Start-Up Nation, an Israeli nonprofit.
Recent successes in the tech sector, such as the popular mobile navigation app Waze (scooped up by Google in 2013) and Jerusalem-based Mobileye, which is developing driverless-car technologies—and which rocked the industry two years ago when it was acquired by Intelfor US$15.3 billion—have helped broadcast the country's status as a veritable hotbed of technological innovation, if a rather unassuming one.
Evi Angelakis, founder of the New York-based Golden Key Realty Group, calls Israel "No. 2 in the world when it comes to tech hubs," behind California's Silicon Valley. And Tel Aviv, with its cosmopolitan yet airy Mediterranean appeal, is the capital of that hub. In addition to its many homegrown startups, heavyweights like IBM, Facebook, Google and Oracle all have research and development facilities in or nearby the city.
Among the high-profile companies expanding into the city are Amazon, which opened an office in Tel Aviv in October, and Nvidia, which plans to open a second research center there to focus on artificial intelligence.
All told, the tech sector generated US$6 billion in capital in 2018, an increase of 15% from 2017, according to Start-Up Nation. Artificial intelligence companies drove the most investment, followed by health care, cybersecurity and financial services firms. Just last year, there were 97 "exits" (meaning mergers, acquisitions or initial public offerings), producing a total of US$3.5 billion in capital gains, according to Start-Up Nation's year-end report.
Given the wealth being created, it's no surprise the tech sector is considered one of the most powerful forces driving Israel's luxury real estate, especially in Tel Aviv, where housing is the most expensive.
Photo: Pixabay
Parallel Tech and Housing Booms
Home prices throughout the country soared more than 170% in the decade between 2006 and 2016, a period during which Israel's tech sector was coming up, due in part to the Israeli government's help facilitating foreign venture capital. A pipeline of highly skilled young workers who receive relevant training as part of their mandatory national military service has also boosted the sector's early growth.
While the tech boom has produced multibillion-dollar IPOs (as well as a new shortage of skilled workers, as demand outstrips supply) the housing boom has produced new Mediterranean-adjacent luxury towers in Tel Aviv where the most lavish penthouses can fetch up to US$4,000 per square foot, according to real estate industry experts. Those sorts of properties typically come with access to an outdoor pool, a wine cellar and a concierge, all amenities that had been uncommon until recently in Israel. Non-waterfront properties might average US$2,500 per square foot, realtors said. Real estate prices are commonly listed in both dollars and shekels.
Renderings of the David Promenade Residences, which are under construction along the Tel Aviv beach.
"Tel Aviv is like a little New York City, in which you get all those brand-new buildings, especially by the water, and they have the amenities that we have here [in the U.S.], because people who work all day—and they pay top dollar—they expect certain things," said Ms. Angelakis, who works with Israeli-based real estate investors who do business in the U.S.
A May 21 snapshot of Tel Aviv homes listed by Iltam Real Estate, a small agency located in Tel Aviv, shows that only one of 17 available properties were priced below US$1 million. Of those properties, the average price for a home of any size within city limits was about US$5.2 million, or 18.8 million Israeli shekels (ILS), according to Iltam.
Living room overlooking the Mediterranean Sea. Photo: Port Tel Aviv
In smaller, affluent communities just north of the city, like Caesarea and Herzliya, private, architecturally stunning seafront villas and hotel-branded condos are priced from US$2 million to US$20 million or more.
In the overall housing market, prices declined slightly in the second half of 2018, according to the Bank of Israel's most recent Financial Stability Report. The pace of building also slowed; one realtor said that big luxury projects often face delays because of Israeli "bureaucracy," rather than a lack of demand by potential buyers. In addition, developers must meet stricter safety regulations than in the past.
Not far from the city center, developers have renovated or torn down and rebuilt many older blocks, and the subsequent price increases have forced some long-time residents out. Gentrification is evident in neighborhoods like Florentin, which "was a shanty town" 10 years ago and is now the neighborhood of choice for many young tech workers, said Matthew Bortnick, sales director for Noovu Real Estate in Tel Aviv.
A new one-bedroom apartment in Florentin now rents for 7,000 shekels (US$1,940) a month, or sells for ILS2.4 million, according to Mr. Bortnick. Ten years ago, the same apartment might rent for ILS4,000 or sell for ILS1.3 million, he said.
"It's like an attainable luxury," he said of today's prices, comparing the part-hipster, part-old-timers district, where he has his own apartment, to Williamsburg, Brooklyn.
Lobby with common lounge area. Photo: Port Tel Aviv
In addition to new condos and high-rise buildings, the city is starting to see co-living spaces crop up as well, in Florentin and another up-and-coming neighborhood, Shapira, Mr. Bortnick said. These are renovated apartment-living spaces featuring small personal quarters, shared kitchen and lounge spaces, and lots of amenities, such as fitness centers, laundry services and in-house movie theaters.
A Small Pool of Viable Domestic Homebuyers
The relative affordability of that luxury is key, especially for the young Israelis and expats who are employed in Silicon Wadi—because while their salaries are higher than those in other local industries, they aren't on par with their counterparts in California's Silicon Valley, said Elsa Ben Shimon, an Israeli native whose brother works for Google in Tel Aviv.
"They make a fraction of what they would have otherwise made in Google New York or Google Mountain View (in California)," she said.
Ms. Ben Shimon, who is a partner at the New York law firm Stroock & Stroock & Lavan, works with Israeli institutions investing in U.S. real estate assets. She said the salary issue limits how many tech workers can actually afford to participate in the luxury real estate market in Israel. The pool of potential buyers likely includes only the most successful startup founders who have already cashed out, and can therefore invest in expensive homes.
In a fairly small market like Tel Aviv, a handful of deep-pocketed domestic homebuyers may be all it takes to sustain long-term growth in property value, said Ted Bauman, senior editor and chief economist at Banyan Hill Publishing, a Florida-based company that publishes independent investment advice.
A US$15 billion buyout "creates quite a chunk of potential buyers on the Israeli side," Mr. Bauman said, referring to the 2017 sale, for US$15.3 billion, of the Israeli autonomous vehicle company Mobileye to Intel Corp, which at the time was the largest-ever acquisition of an Israeli high-tech company. Other major acquisitions of Israeli tech firms include the cybersecurity services company Imperva, bought for US$2.1 billion by American private equity firm Thoma Bravo, and the electronics maker Orbotech, purchased for US$3.4 billion by the KLA-Tencor Corporation, both in 2018.
"If we see a couple of these (acquisitions) a year, I would imagine that that's going to be a pretty good supply" of viable luxury homebuyers, Mr. Bauman predicted.
Photo: Port Tel Aviv
Migration to the Region Fueling Growth
Of course, tech is only part of what's fueling the real estate market. The other big factor is the recent surge of migration, mostly by Jews, from Europe, the U.S. and elsewhere to Israel. Realtors told Mansion Global that in addition to seeking holiday homes by the sea, many Jews view property purchases in Israel as an insurance policy, should political conflict and growing anti-Semitism in their home countries reach a breaking point.
"Israel has always been a house for Jews who wish to have a home in their national homeland, so to speak," said Gary Hersham, partner at the U.K.-based luxury realty firm Beauchamp Estates. "But today, with anti-Semitism on the rise in many parts of the world … you can see that there is a movement of Jews greater than there ever has been before to buy in Israel, because it's a safe haven for them."
Mr. Hersham, who travels to Israel several times a year, said his firm is working with Iltam Real Estate to market high-end homes to Europeans. Their focus is in the upmarket Rothschild neighborhood, a central commercial and residential area in Tel Aviv, and the Namal district, a renovated port area popular with tourists that features a boardwalk, restaurants, and shops that will include the city's first Ikea outpost later this year.
Mr. Bauman said a healthy balance between foreign and domestic investment is key to maintaining a strong luxury real estate market. One thing international investors should consider is the Israeli law that went into effect this year limiting cash payments to 10% of the total transaction for real estate purchases. And while the government bumped tax rates on foreign real estate purchases in 2014, it could always turn to that strategy again if off-shore buyers start to drive price growth too fast.
Globally speaking, Tel Aviv's luxury sector still seems more financially palatable to foreigners than, say, Vancouver's or Sydney's, Mr. Bauman said, following recent foreign-buyer taxes enacted by British Columbia and Australia.
As long as Israeli resident buyers—like those reaping profits in the tech sector—can continue to participate in the high-end housing market, the balance should be preserved.
"It's got all the ingredients of a sustainable market," he said.